Creating Value Adding Curb Appeal
by Shannon Weissleder
Creating major curb appeal greatly increases your home's value. When selling your house, you want to grab buyers from the moment they pull up to the curb. Most buyers are looking for a house that instantly looks like a "H-O-M-E". Here are my top ideas for creating maximum impact:
#1: Update the exterior with paint.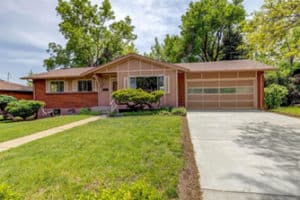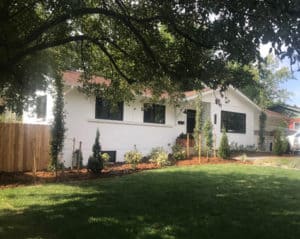 Choose a bright exterior color to warm up a tired looking house. In this example, I selected a classic white and black color scheme and accented with warmer wood tones through cedar fencing, cedar wrapped posts and redwood gorilla-hair mulch. We exchanged the aluminum windows for a matte black, giving the house a more modern feel. I also replaced the front door with a black door with small windows to let more light into the house.
#2:  Add shrubs, trees and flowering plants to the front walkway to add instant curb appeal.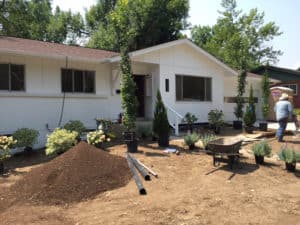 In this example, I selected Swedish Aspen trees, which grow well on the Front Range, and a few Upright Juniper trees to add height to the front of the house. The fifteen lavender bushes along the front sidewalk welcome guests with an earthy lavender fragrance. Lavender bushes are great for attracting bees, which keep flowers healthy and blooming throughout the season.
#3:  Replace old house numbers to give the house some pizzazz.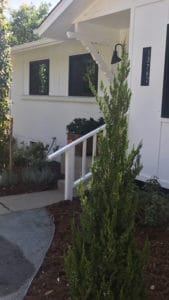 I prefer the house numbers to be prominent so that visitors, delivery people and buyers can easily spot the house.  It is amazing how affordable this option can be and it gives an instant update.
#4:  When in doubt….clear it out!
The original landscaping on this house didn't do much for the home in terms of curb appeal. The yard did not have a sprinkler system, which made the grass and landscaping difficult to keep green (or alive) during the hot summer months in Colorado. I decided to completely remove the existing landscaping so that we could fix some of the drainage concerns and add sprinklers. Once it was cleared out I had a clean slate to design with. Since the old sculptural juniper bushes are popular in this era of homes, I decided to keep them. I put a modern spin on the landscaping with tall upright juniper trees that give the home a more formal feel.
#5:  Love your home by keeping it well maintained.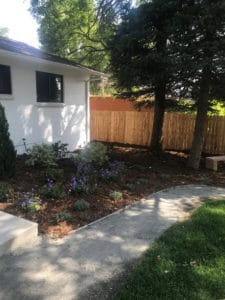 Clean the gutters yearly to keep water away from your house. Sweep the front walkway and entryway to keep it looking fresh. Weed and mow the lawn as needed.  Your goal is to create major curb appeal to increase your home's value. When a buyer pulls up to look at the house, the will certainly notice all off your efforts! Buyers can tell when a home has been well cared for. Maintaining it will go a long way toward getting the best price when you decided to sell it.