Top 5 Strategies When Flipping a House
By Shannon Weissleder
Flipping houses has been a passion of mine for over a decade. I've been fortunate enough to purchase and sell 13 properties during that time. Each property needs its own special kind of attention and love. Here are my Top 5 bits of advice if you are itching to flip.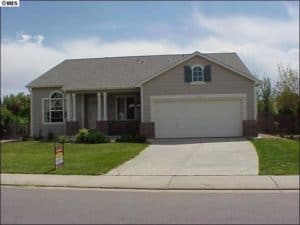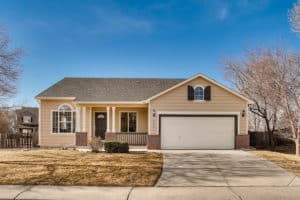 #1: Creating curb appeal is essential
A home without curb appeal is going to have trouble getting buyers interested in what is inside. Some properties need more work than others to become enticing to potential buyers. The exterior of this house had recently been painted, so painting was unnecessary and outside the budget. Instead, I chose to work with the existing body color of the house and paint the trim a soft creamy white. I also updated the eggplant colored shutters, railing and doors with a more modern bronze color. Adding new house numbers is also an inexpensive way to update the front. We cleaned out the gutters to ensure proper drainage and spent a day doing a winter yard clean up so that buyers could begin enjoying their new home on day one. Once the weather warms, planting annuals along the front walkway or in large pots by the front door can add instant charm.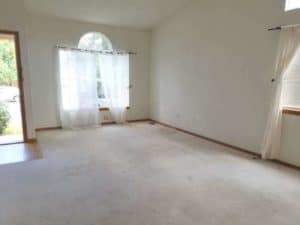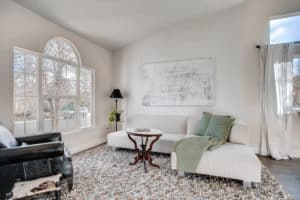 #2: The entryway must grab a buyer's attention
Buyers decide in the first 10 seconds if they like it or not. They will know right away if they feel good about a house as they step in the front door. It is important to clear out clutter and create a space that welcomes them in with a big hug. Most buyers will come in through the front door of a home, not the garage door as most owner do. Walk through the front door as if you were a buyer to see what they see and make the necessary adjustments. If it feels small and cramped, remove some furniture so that buyers are free to walk around the space. Keep the space as light and bright as possible, using lamps and opening the blinds to bring in the natural light.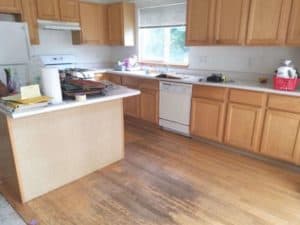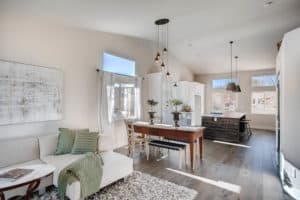 #3: Buyers look for Great Rooms for easy entertaining
Today's home buyers love to entertain friends and loved ones. It is important to make the kitchen, dining areas and family rooms as open as possible. You can create a more open feeling by installing continuous flooring throughout each of these spaces so as not to stop the eye. For the same reason, I recommend using a light, neutral paint color throughout. Lighting fixtures should also coordinate room to room when you can see them all at the same time. In this case, I removed the wall separating the dining room from the kitchen, which made the space feel grand.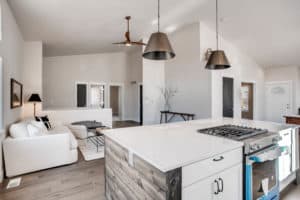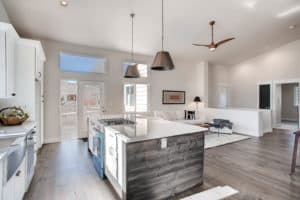 #4: Update the kitchen and add an island with seating
The way people use kitchens now is different than it was 30 years ago. If it's in the budget, open up the kitchen walls as much as possible. Buyers want sight lines, so they can see kids playing in the family room and have plenty of room for hosting parties. This is a great way to ensure that the cook is part of the action without isolating them in a closed off kitchen.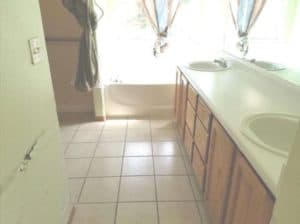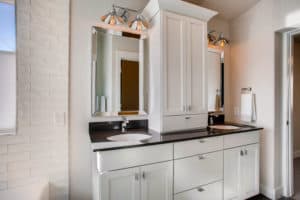 #5: Master Bathrooms need to feel luxurious and spa-like
Modern buyers want the master bathroom to feel like a retreat. Add luxury finishes like fixtures and faucets, free standing bathtubs and lighting as the budget will allow. White subway tile is an affordable and classic way to update the bathtub and shower surrounds. Bathrooms must be squeaky clean to ensure that buyers feel like they can move right in without scrubbing everything down. Flipping houses is not for the faint of heart. It requires a lot of time, energy, vision and budgeting skills. But, if you are itching to flip, and you successfully convert a dilapidated and unloved house into someone's dream home, it's a great day in my book!