Comparative Housing Prices in Local Communities
Anyone familiar with the our real estate market knows that Boulder has always been the most expensive city in the area and that home prices have consistently increased there year after year.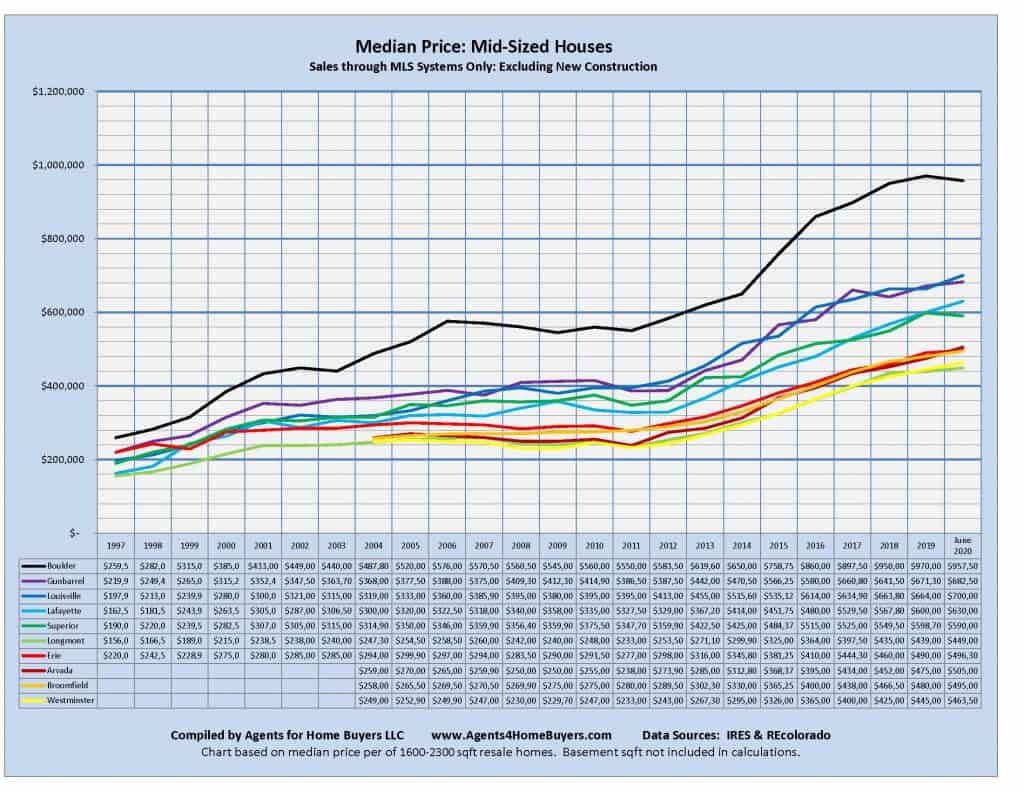 When we started tracking housing prices in 1997, the median price for midsized house in Boulder was $260,000, a price that had jumped to $960,000 by June of 2020. This is the pattern of price increases we've seen for other communities in the area as well, with Louisville prices moving from about 200K in 1997 for this size home to 700K now, and Longmont prices going from 155K to 455K.
So we know that the surrounding communities are less expensive than Boulder, but what exactly is the price differential, and has this differential changed over time? The data in bottom chart provides some perspective on these questions.
One thing that won't surprise anyone familiar with our local market is that the communities that are closer to Boulder, like Gunbarrel, Louisville and Superior, tend to be priced closer to Boulder than more "distant" communities like Longmont or Westminster. As the bottom chart indicates, Louisville and Lafayette home prices are currently about 73% of Boulder prices, while Lafayette and Superior are at about 63% of Boulder pricing, while Erie, Arvada and Broomfield are at 52% and Longmont and Westminster are at 47%. While prices are high in all of these communities relative to many other areas of the country, it's good to know that you can spend half as much on a house, or buy twice the house for the same dollars, if you're willing to commute 20-30 minutes into Boulder.
While the relative cost of homes in these communities have always been linked with their distance from Boulder, there has been substantial change in the size of the price differential over time. For example, prices in Gunbarrel were about 90% of Boulder prices in 1997, but by 2020 had dropped to 72% of Boulder prices. Over the same time frame, Superior prices dropped from 80% of those in Boulder to 47%. In all the neighboring communities, prices relative to Boulder dropped about 5% from 1997 to 2003. From 2004 to 2008, this 5% rate of relative decline was repeated for Lafayette and Superior, but for the remaining communities house prices dropped about 10% relative to Boulder prices. Of course, the home prices were increasing throughout the area during this period, they were just increasing more rapidly in Boulder than in the other communities. This trend of increasing price differentials largely ended with the start of the recession in 2008. From 2008 to 2020, Gunbarrel (5%), Superior (3%), and Erie (2%) were the only communities where these price differentials with Boulder continued to increase a bit. Meanwhile, Louisville and Broomfield gained a bit of ground on Boulder (1% & 2%), while Lafayette and Longmont prices gained 4% and Arvada and Westminster gained 8%. Significantly, none of these communities have lost value relative to Boulder over the past 5 years, and most of the gains have accrued over this period. Prices for Boulder's "near neighbors," Gunbarrel, Louisville and Superior, haven't shifted relative to Boulder over this period, while the others have gained on Boulder by 4% to 6%. This is pure speculation, but it's possible that the extremely high home prices in Boulder and its near neighbors are pushing most buyers further out, increasing the competition for the available homes and leading to larger price increases in those areas than in Boulder. We'll have to watch this over the next few years to see how it plays out.