Using Salvaged Items to Create Architectural Details in Your Home
by Shannon Weissleder
I have remodeled and flipped dozens of homes over the last decade. The easiest and most surefire way to add character to new homes or even older homes that lack charm is to incorporate found and salvaged items. New spaces need a bit of patina to create that desired character effect. Many of these items are meant to be architectural but they don't necessarily have to be to give the illusion of architectural interest and detail.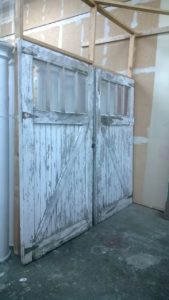 The picture in the above photo shows a pair of antique carriage house doors that I purchased at a salvage yard in Denver called Architectural Salvage, Inc, which unfortunately, has since closed. The doors were in rough shape, so I had to change out the broken glass and some of the wood was replaced or repaired so that they were strong again and could be used to slide on a metal track. Next, I had them refinished in black and white to tie in the other black doors I selected for that house. Below is what they looked like when they were used to close off a TV room from the family room.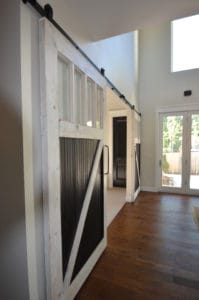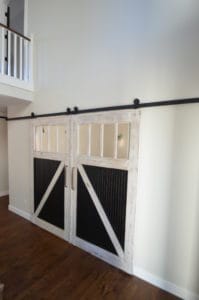 I absolutely love using old doors in new spaces, and I get excited whenever I find them. Even if I do not know how I will use them, I buy them because I know they will find the perfect spot in one of my remodels. Here are some other examples of old doors I have used.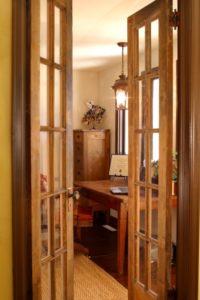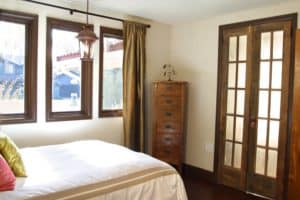 Besides doors, another one of my favorite architectural finds are old steel warehouse windows. I found these windows from a salvage yard in Denver called Queen City. I had the steel sandblasted to remove old lead paint. Once the frame was back to raw steel I had a craftsman frame them out with walnut and replaced the broken glass with amber colored glass for more privacy. This window was used as the door to my office which I hung on sliding track hardware. They can be repurposed as a sliding door or room divider like the picture below.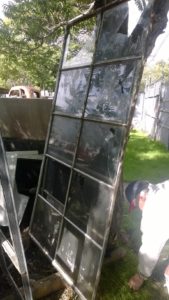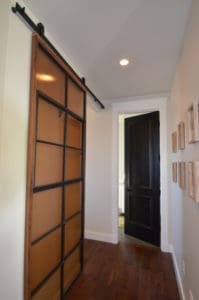 I've also used them as a "window" on an interior wall to let more light into the space behind the window. The picture below shows a kitchen I remodeled and added the steel window for architectural interest and to let light shine into the hallway behind it.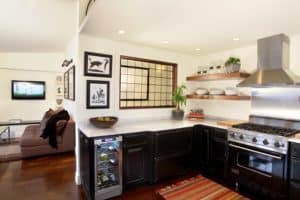 The images below show how I used a window in another house to separate the dining room from the pantry to allow plenty of light to shine into the interior of the pantry. This was a new home and not something you see everyday which I strive for in my properties. Many buyers are willing to pay more money to have these kinds of original and unique details in their new home.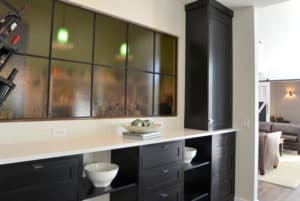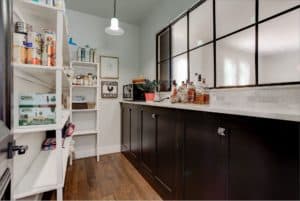 Another common way of incorporating old pieces is to use furniture as a sink vanity. I have also incorporated old sinks into new kitchens like the one below. This was a 200-pound stone sink that used to be in an art room at a local school.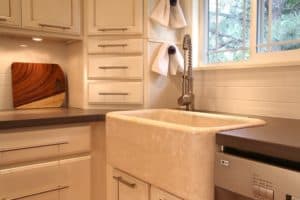 Here is an example of how I used an old steel cart to create a small vanity in a modern house. I scrubbed it, painted the base black and added a sink hole.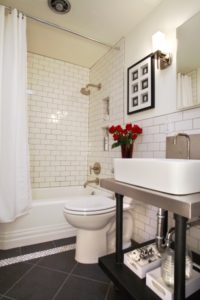 Use your imagination! Old posts can be added to new drywall like the ones I added to this archway which fit perfectly into this Mediterranean home.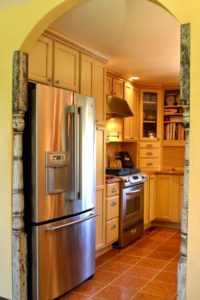 Have fun with it and enjoy your home that will be unlike any other!