Home Prices Way Up, but Interest Rates Keep Costs Down
Home prices have increased dramatically in Boulder County and the Denver Metro area over the past 10 to 20 years, but lower mortgage interest rates have limited increases in housing costs for most home buyers. For the lucky few who can pay cash for their home, home prices and buying costs are essentially the same. But for most home buyers, the interest rate on their home loan has a big impact on buying costs.

Check out the chart below and you'll see that the median price for what we call a midsize home in Boulder has gone from $385,000 in 2000 to just under a million bucks ($990,000) in 2020. Prices in Lafayette have gone from $263,000 to $635,000 over that same time frame, while Longmont prices have gone from $215,000 to $470,000. That's a 157% increase for Boulder, 141% for Lafayette, and 120% for Longmont.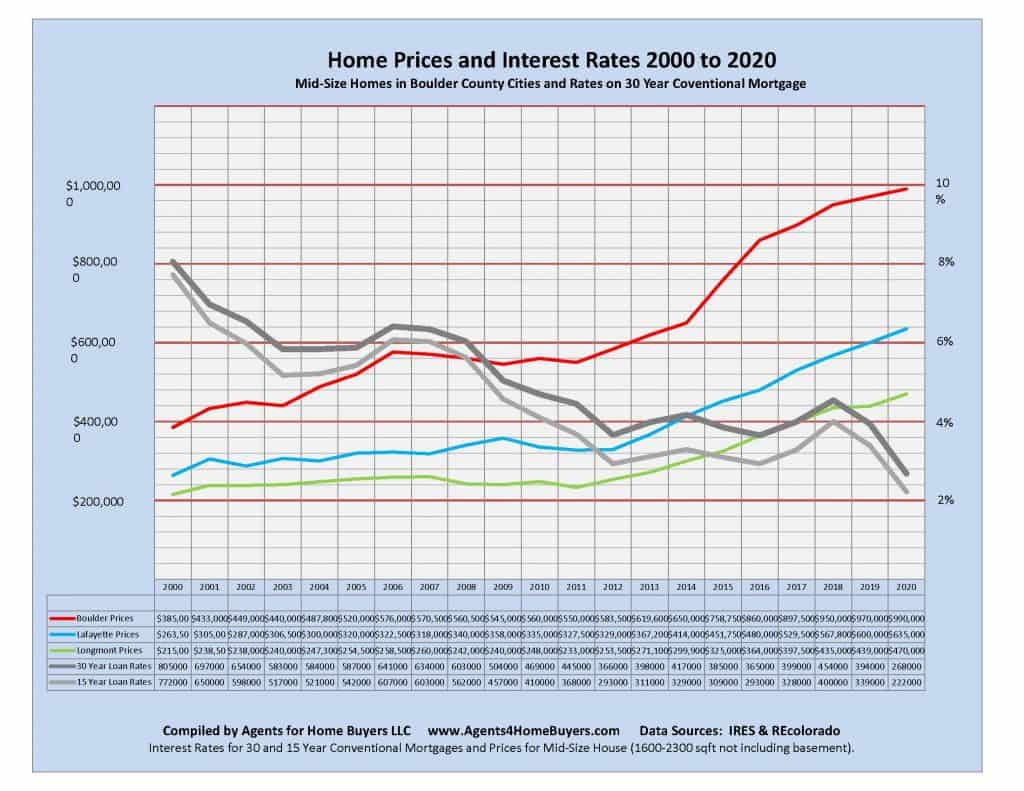 As indicated in the same chart, however, interest rates have dropped dramatically over that same time frame. Rates on a 30-year mortgage loan dropped from about 8% to 6% between 2000 and 2003. They dropped again between 2008 and 2012, from about 6% to 4%, and then again over the last couple of years, from about 4% to 2.7% in December 2020.
Effect on Monthly Payments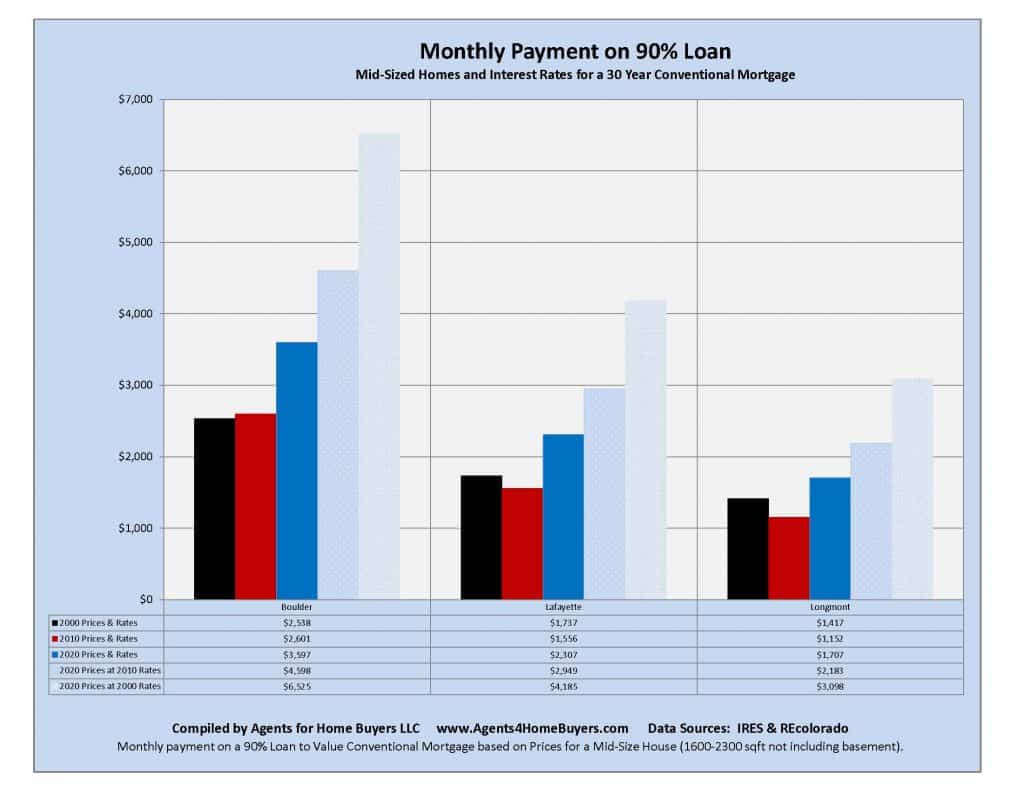 The impact of these rate drops on the cost of buying is illustrated in the data on monthly mortgage payments shown in the chart at the left. While midsize home prices in Boulder increased by about 46% between 2000 and 2010, the monthly payment on these homes increased from $2540 to $2600, about 2%, because of the lower interest rates. While prices in Lafayette and Longmont increased by 27% and 15% from 2000 to 2010, monthly payments actually dropped 10% and 19% over that time frame. For anyone getting a loan, the more expensive houses cost substantially less to buy.

By 2020, this interest rate "discount" in the cost of buying a home in Boulder County had evaporated, but the differential between home prices and the cost of buying continued to increase. As we noted earlier, prices in Longmont increased from $215,000 to $470,000 from 2000 to 2020, an increase of almost 120%, but the monthly payment on that home increased by only 20%, from $1417 from $1707. In Boulder, a 157% price increase resulted in "only" a 42% increase in the monthly payment, while in Lafayette a 141% price increase resulted in a 33% increase in the payment. In sum, falling interest rates have insulated Boulder County home buyers from roughly 75% to 85% of the potential increase in home buying costs that would have otherwise resulted from increased home prices.

Of course, the flip side of this good news is that a return to what were considered "normal" interest rates in 2000 and 2010 could make it difficult for most buyers to afford a home in Boulder County...or many other parts of the country for that matter As indicated in the monthly payment chart, if you had to buy a midsize Boulder home at current prices, at 2010 interest rates, your monthly payment would jump from $3600 to $4600. And if the interest rates that prevailed in 2000 returned, your payment would jump to from $3600 to nearly $6600. Probably not going to happen, but a bit sobering to contemplate.