If you got it…flaunt it!  When it comes to a fireplace, that is.
by Shannon Weissleder
Fireplaces are highly sought after here in Colorado. Buyers dream of getting cozy and nestling up fireside next to loved ones. Fireplaces are where people want to hang stockings during the holidays and have lazy Sundays lying around watching movies while the fire crackles. In the design world they give a room a feature wall to work with and place furniture around. When putting your house up for sale, make sure the fireplace takes center stage because buyers will be attracted to a room that has the character and warmth that a fireplace can provide. If are you are lucky enough to have one in your home, make sure it shines. You can give your brass fireplace frame a simple update by spray painting it black with high heat spray paint purchased at any home improvement store. Below is an example of a brick fireplace that I simply added ledgestone over the top of the brick from floor to ceiling for an easy update. I was able to leave the existing mantle.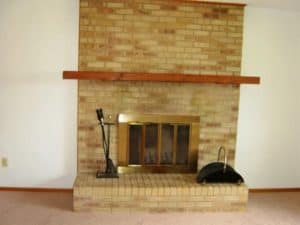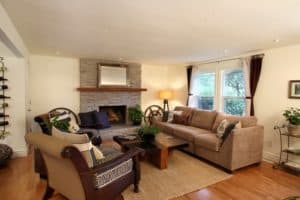 Here is another example of how I tiled over old brick and carried the tile onto the kitchen backsplash to make the rooms feel more cohesive. The tile also gave the room the more Mediterranean style I was aiming for. I don't have a "before" picture of the fireplace, but you can get the idea from how dated the kitchen was in the picture below.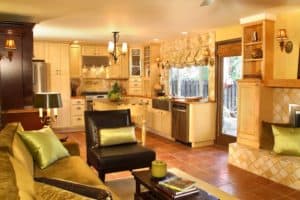 I have even tried to give the illusion of a fireplace like wall in the duplex below by just creating "hearth" seating and shelving around a TV wall. It gives the feeling of a fireplace without adding the expense. It was just a boring old wall when I purchased the unit and I was able to achieve the look I wanted and functionality by adding shelving without even adding a fireplace.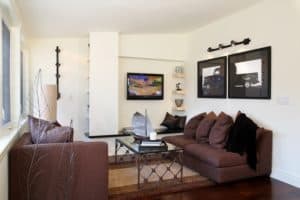 Here is an illustration of how staging the room helps show off a fireplace. All I had to do was paint the mantle to match the trim in the house and spray paint the brass to black.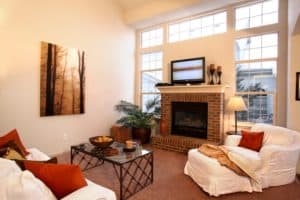 This is a room I designed around the free-standing fireplace. I placed a rocking chair with a cozy blanket draped across the back to pull at the heart strings of buyers.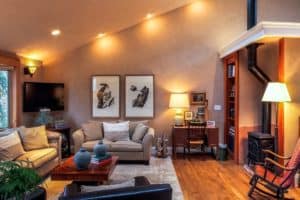 You don't need to do anything at all to a fireplace besides adding a few well selected accessories,  which is the least expensive and easiest update you can do. Flaunt it! Even if it feels dated, buyers will love to be able to envision many of their dreams coming true right there by that very fireplace.